Happy New Year! 
Westside detached house supply dropped 16.5% in December to 616 from 738 in November 2017. Supply is up 46% however compared to 422 in December 2016.

Westside detached home sales were down 57% from 81 in November to 35 in December 2017. Sales are also down 44% compared to 63 sales in December 2016. December & January are typically the quietest months for supply & demand. 

The result of this increase in supply and decrease in demand is an increase in Months of Supply (MOS) to 17.6, from 9.1 last month. (Note* A balanced market is in the range between 4 & 6 MOS with prices rising below 4Mos and falling above 6 MOS). So with 17.6 MOS, prices continue to show the drop we were expecting, down 20.8% on average to $3.59M from $4.537M at the peak last October 2017 while median prices remained the same $3.3M as last month but down 13% from the October 2017 high. The highest sale price for a Westside detached home in December was $9.18M. The lowest price was $2.23M. Of those sales, 4 received the asking price or more and 31 sold below the asking price.

December Westside apartment supply dropped 24% to 535 units in Dec from 699 in Nov. This is down only 4% from 555 in Dec 2016 and is typical for this time of year. Demand dropped 34% to 251 sales in Dec from 380 in Nov. This is up 6% from 237 sales in Dec of 2016. MOS in Dec is 2.1 vs 1.8 in Nov and 2.3 in Dec 2016. These levels are too low to make a significant reduction in pressure on the prices however Average prices are down 2.8% from $987K to $959K while Median prices are up 1% from $780K to $788K. Overall, apartment prices have been quite flat since April.

Townhouse supply in December is down 22% to 127, from 162 in November and that is up 48% from Dec 2016. Demand in Dec is down 22% to 26 units from 42 in Nov and this is up 1.3% from 23 sales in Dec 2016. Current MOS is 4.9, up 26% from 3.9 in Nov and up 32% from 3.7 in Dec 2016. Notwithstanding the increase in MOS, average prices jumped 16% from $1436K in Nov to 1663K in Dec. and that is up 33% from $1.249M in Dec 2016. Median prices jumped 18.4% from $1.36M in Nov to $1.663M in Dec. This is up 44% from $1.12M in Dec 2016.

Detached home price reductions are creating a good buying opportunities. Apartment prices remain stable in the face of a shifting market and townhouse prices are rising why..??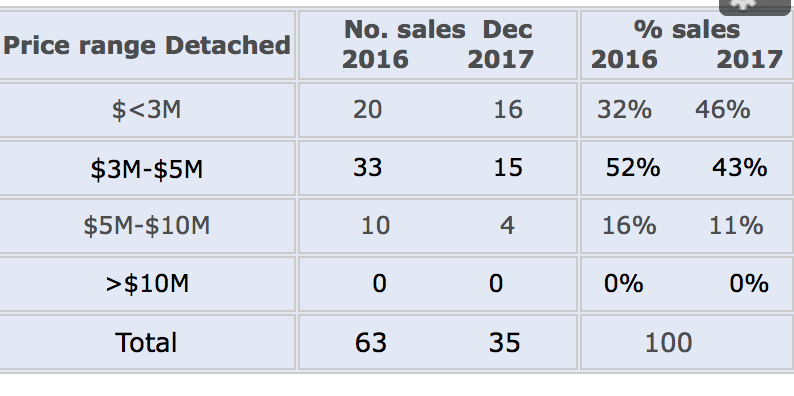 Government regulations both here and in China continue to make it difficult for foreign buyers to bring money here to purchase real estate and that will create opportunities for local buyers. Interest rates, currency exchange and lending restrictions continue to dampen sales.

We are currently in a buyers market for detached homes with prices off by 15 - 20%.

Please call me at any time for a considered response to any and all of your real estate questions.

All the best for 2018!

Best regards,

Stuart

604 731 0370