The supply of Westside detached homes in September is down 1.3% from August (755 from 765) and down 10% compared to September 2017. Westside detached home sales (demand) this September were down 31% from August (38 from 52) and down 46% compared to 70 sales in September 2017. September sales are down 64% from the 10 year September average of 106 sales.
The small change in supply and decrease in demand has resulted in an increase in Months of Supply (MOS) to 19.9, from 13.9 last month and 11.9 last year in September 2017. (Usually a balanced market is in the range between 4-7 MOS with prices rising below 4 MOS and falling above 7 MOS). With MOS increasing, average detached home prices have decreased 4.7% to $3.328M from $3.491M in August and the median was down 9.1% to $2.917M from $3.21M last month. This is a price drop of 26% on average & 24% on median from the highs in 2017. If demand stays low, MOS will stay high and we should see continued downward pressure on prices.
The highest sale price for a Westside detached home in September was $7.1M. The lowest price was $1.71M. Of those sales, 6 received the asking price or more and 32 sold below the asking price.
Westside apartment supply increased 20% to 1342 units in September from 1126 in August and this is up 81% from the 743 listings we had in September 2017. At the same time Demand dropped 24% to 209 sales in September from 275 in August and this is down 48% from 403 sales in September 2017.

MOS in September is up 56% to 6.4 from 4.1 in August and up 355% from 1.8 last September 2017. The average & median prices decreased 1% to $970K & $790K in September from $986K & $ 798K in August. Both average and median prices are down by 19% & 10% from the peak of $1.199M and $880K in January 2018.
Westside townhouse supply increased 12% this September to 271 homes from 241 in August and that's up 79% from 151 in September 2017. Demand in September is down 13% to 33 units from 38 in August and down 48% from 64 sales last September 2017. With supply up slightly and demand down the current MOS increased to 8.2 from 6.3 in August and 2.4 in September 2017. Average prices fell 4% to $1.434M from $1.494M in August and were down 3% from $1.48M last September 2017. Median prices fell 8% to $1.332M in September from $1.446M in August and unchanged from September 2017. As with apartments, townhouse prices are down (20% average and 12% median) from the peak prices last January.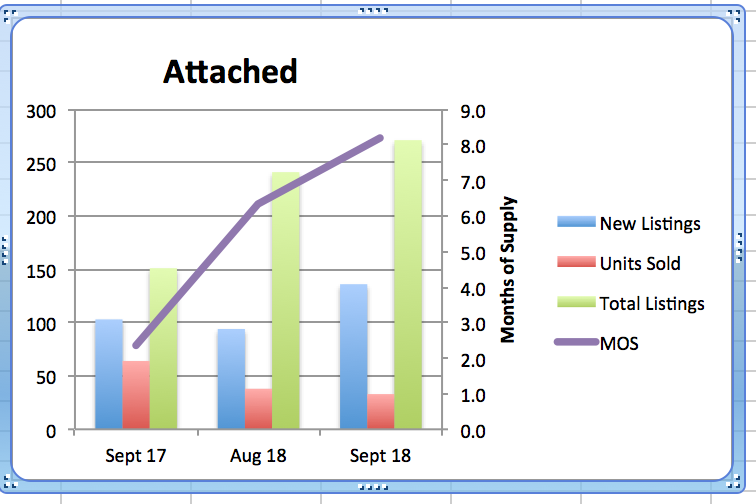 Detached, Attached and Apartments on the west side are now all experiencing price reductions and while this is creating good buying opportunities, buyers are holding off in anticipation of further declines. This should exacerbate the decline and soften prices further.
Only now is The Press recognizing the decline in sales activity and prices as More Supply & Less Demand is now being seen over the broader Metro Vancouver market.Last month's sales were 36.1 per cent below the 10-year September sales average.
The Real Estate Board of Greater Vancouver (REBGV) reports that residential property sales in the region dropped 43.5% to 1,595 this September from 2,821 sales in September 2017, and dropped 17.3% compared to 1,929 sales in August 2018.
The total number of properties currently listed for sale on the MLS® system in Metro Vancouver is the highest in 4 years at 13,084. Supply is up 38.2% from 9,466 in September 2017 and up 10.7% from 11,824 last August 2018.
For all property types, the sales-to-active listings ratio for September 2018 is 12.2 per cent. By property type, the ratio is 7.8 per cent for detached homes, 14 per cent for town homes, and 17.6 per cent for apartments.
Downward pressure on home prices occurs when the ratio dips below the 12 per cent mark for a sustained period, while upward pressure occurs when it surpasses 20 per cent over several months.
"Metro Vancouver's housing market has changed pace compared to the last few years. Our town home and apartment markets are sitting in balanced market territory and our detached home market remains in a clear buyers' market,"
With the market starting to decline across the region perhaps more attention will be paid to the negative effect of current government policies and interest rate increases. The problem the government has is that now that the market is in decline, they will not be able to stop it until it runs it's course.
Unfortunately the public pays the cost of uncertainty generated by inexperienced governments dabbling in the local market economics. They should back off from these policies and instead encourage development of rental properties through zoning & tax incentives and stay away from rent controls that discourage rental property development.
NDP efforts to diminish and redistribute home owner's wealth and tax unrealized paper gains is punishing homeowners. There was no serious objection while this was limited to the west side detached owners but as this erosion of equity hits the broader market, it will become more of a focal point for the electorate.
To put it in perspective, British Columbians should consider this an attack on their retirement savings. Imagine the response if the NDP Government were to tax unearned retirement income in pension plans.
We have a voting opportunity coming up to help restore stability to our city politics and our home equity. Ken Sim is a solid guy with local roots and a sound platform. No matter your choice, please make sure you vote Oct 20th or in the advance poll Oct. 10 to 17th.
Please call me at any time for a considered response to any and all of your real estate questions.
Happy Thanksgiving!
Best regards,
Stuart